My novels

Lady of the
Tarot.
Also in Audiobook.

House of Cards

The Artist's Inheritance

Caitlin's Book
of Shadows

Drawing Down the
Shades

Mourning Dove Locket

Bicycle Requiem

Passion's Sacred Dance

Druid Warrior's
Heart

Sing a Mournful
Melody

Changeling's Crown

Murder Upon
a Midnight Clear

Watchmaker's Heart

House of Dark Envy
For more about these books see below:
NEW! May 2017: Thanks to the wonderful talent of narrator Christina Marie Morris, my novel
LADY OF THE TAROT
is
now available in audiobook
.
If you wish, you may listen to a sample of the book with the player below:
If you'd like to hear more, the audiobook is available through
Audible, Itunes, and Amazon
House of Dark Envy
genre: Victorian Romance
Surely, lightning can't strike twice...

1888: When Sarahjane attends Lady Morville's costume party, she never expects to learn her old beau Felix Gryffith is under the illustrious woman's patronage and stands on the cusp of making a world-changing discovery. Felix, whose lies disgraced her in the eyes of the London elite by labeling her a flirt.

Felix's love for Sarahjane has never wavered, despite the scandal that forced them apart. He's desperate to tell her the truth, if he can convince her to listen.

Fate lurked in the shadows that night, years ago. Has it returned to grant Sarahjane and Felix their wishes, or terrorize them?
Setting: Britain, 1888.
Recent review: From
Night Owl Reviews
:
"I found the story between the pages to be
a great read
. I cannot help but like the history lessons in some of the story lines. I had no clue how the story or mystery was going to end. Overall there are
great twists and turns
...
I would actually love to read more from this author
." ~ Twitch
House of Dark Envy is available now to buy or borrow with Amazon Prime/Kindle Unlimited at
Amazon
. Also available in
paperback
.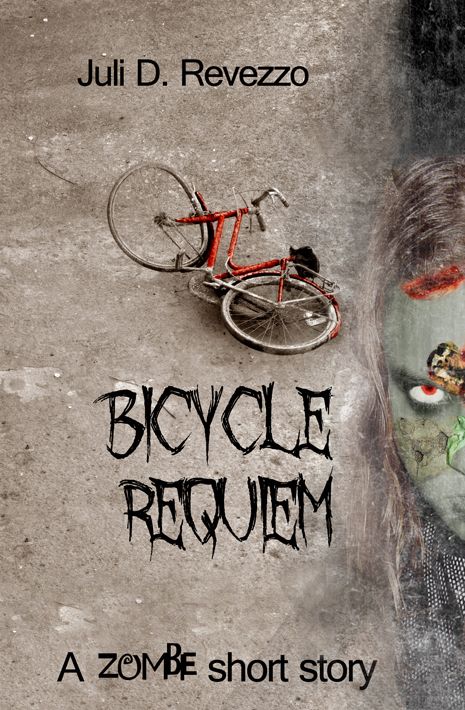 Bicycle Requiem
genre: horror, paranormal
On the way home from a draining night of work, Theodora (called Teddy by her friends) finds herself guilty of something she'd never dreamed: a hit and run that results in a child's death.
Wracked with guilt, Teddy hides her secret, carrying on as if nothing happened, but when the victim's zombie returns, bringing along her own kind of disturbing justice, Teddy learns innocent little Mara isn't exactly what she seemed.
And Teddy wonders, would jail be better than eternity with the vengeful girl's accusing spectre.
Is it a small price to pay--and for what?
Available to buy and borrow with
Amazon
Prime.
*~*~*~*~*
*~*~*~*~*
*~*~*~*~*
*~*~*~*~*
*~*~*~*~*
*~*~*~*~*
Lady of the Tarot
genre: Gothic romance
Series: Reign of Tarot
Synopsis:
WHAT THE CARDS FORETELL MAY BE REAL, AFTER ALL

Having escaped the Reign of Terror, Emilie Maigny takes refuge in England and tries to come to grips with the life and loss she left behind. When her brother, Sinjon, returns, a terrifying evil swoops down upon her. Nightmares plague her, providing strange clues ... but to what?
Scottish-born Linton has spent his entire life in luxury, whiling away the hours in intense study of the tarot. He knows the hidden meanings of the cards, but until he meets the lovely Emilie Maigny, he never guessed how important his study might be—to his life, and Emilie's survival when terrible evil strikes.
A Cypher is all Emilie needs, but what is it? Is Linton the key? He may charm her heart—and he may be her only salvation.


Romantic, yes, but a little....suspenseful and paranormal-y too! :) If you'd like to check it out, it's available at Amazon for
Kindle
ebook and in
paperback
.
MOURNING DOVE LOCKET (Antique Magic, book 4)
genre: paranormal mystery, supernatural fantasy
Synopsis:
For antique shop owners Caitlin and Trevor Fulmer, the intrusion of gods and ghosts is an unfortunate daily occurrence. After a young girl offers Caitlin a gold locket, however, she can't help but notice it's oozing with paranormal energy.
More significantly, the locket's owner is surrounded by Otherworld spirits. Caitlin recognizes in the girl all the signs of a budding witch in the midst of a dangerous crisis.
Can she and her covenmates protect the girl and assist her in embracing her powers, before those beyond the veil extract their revenge?
If you'd like to check it out, MOURNING DOVE LOCKET is available now to buy or borrow with Amazon Prime/Kindle Unlimited at
Amazon
and
Amazon.uk,
and for all other worldwide Amazon stores:
here
, or in paperback from
Createspace.
~~~~
MURDER UPON A MIDNIGHT CLEAR
GENRE: paranormal romantic mystery, Christmas themed romance
'Tis the season ... for death.

Murder reminds Detective Helene Collias of Holly PD that crime doesn't have any Christmas Spirit. And the last victim she ever expected to find in her case files this holiday season is the sister of her old flame, Sean Grant. Ordinarily, Helene's psychic gifts give her an edge but this time, that gift has short-circuited. Could her lingering attraction to Sean be blurring her abilities, or is something more sinister at work?
*~*~*~*~*
*~*~*~*~*
This next one is a little different than the others, a truer historical romance. It's one that's been hanging around in my brain for quite a while. A Victorian with just a hint of steampunk and aromatherapy. Different than the dark stories you might be used to from me, but I hope you will enjoy it as much as I enjoyed writing it. :)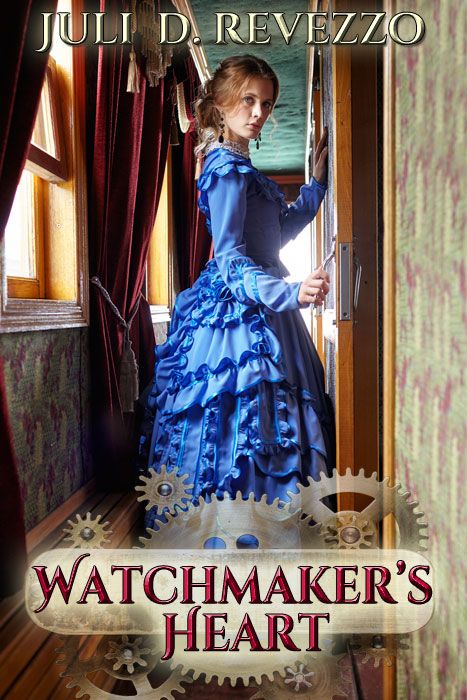 cover by Suzanne G. Rogers
WATCHMAKER'S HEART
genre:
Victorian Romance, historical romance

Available at
Amazon
and in
paperback
Synopsis:
For Miss Phoebe Lockswell, fashionable London tea parties and balls aren't her style. Instead, she prefers to tinker tirelessly with a clockwork diffuser she's built from scratch. If only she can get the invention to work on command, she might earn her way out of an arranged marriage to a repugnant member of the House of Commons.
London watchmaker Mortimer Kidd was brought up hard in the arms of an infamous London gang. Despite the respectability he strives for now, the gang leader is blackmailing him. When Mortimer sees Phoebe's diffuser, he thinks he's found a way to buy himself out of trouble. The brash Phoebe manages to steal his heart, however, before he can purloin her invention.
Will Mortimer's unsavory past catch up to him before he convinces Phoebe of his devotion? Worse, once Phoebe learns the truth, will she ever trust him again?
Setting: London, 1898
~~~~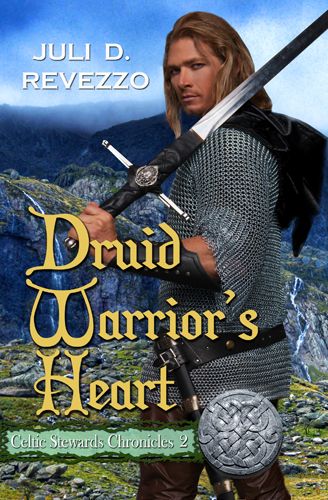 DRUID WARRIOR'S HEART (
Celtic Stewards Chronicles
, Book Two)
Cover art by
Boulevard Photografica
genre: Historical Fantasy Romance
As the latest in her family's long line of Stewards, Ruth Macken awaits the arrival of a warrior sworn to the Tuatha dé Danaan, the Celtic gods her family has served since the beginning of time. For on that day, a magical battle will erupt. A war between druids and an evil that will decide the fate of mankind.
Isaac Connel knows the battle is imminent, and is ready to fight, once again but from the moment he sees Ruth flitting around the sacred ground, he's captivated by her fiery charms and a need to protect her.
Despite Isaac's assurances and the dreams that guide her, what can Ruth and her lover do to drive off this evil? Despite everything, will the world end at the hands of an evil god?
Available at
Amazon
and in
paperback
.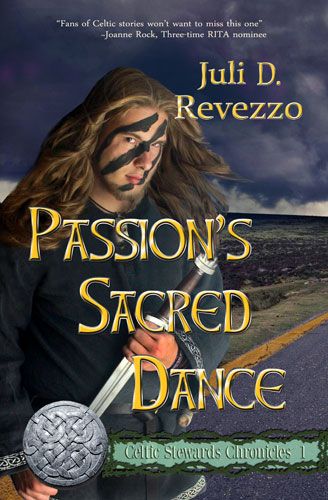 PASSION'S SACRED DANCE
(
Celtic Stewards Chronicles
, Book One)
genre: fantasy romance
Available at
Amazon
and in
paperback
.
Unless Stacy Macken can stave off her creditors, she may lose her renowned history center. Yet she knows in her heart that the center is sacred and what a catastrophe losing it would be. How much of a catastrophe, she hasn't a clue.
Until Aaron Fielding arrives with his tales of magical guardians and the Tuatha dé Danann, sworn warriors from Celtic legend who protect humanity from a wicked enemy seeking their destruction.
Is the end of the world imminent? What can she, a modern woman and her warrior lover, possibly have to offer when a long-prophesied druidic mythic battle explodes around them?
Bonus: Includes brand new flash fiction piece, "About A Warrior"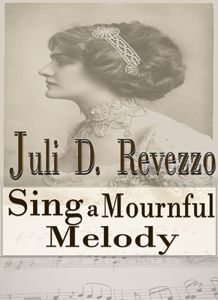 Books by Juli D. Revezzo
"Sing A Mournful Melody"--A Gothic short story
Synopsis:
At the turn of the 20th century, tragedy has left Maribelle grief-stricken. After her beloved husband is murdered, his body disappears from his crypt. Worse, ghostly voices call from the widow's Graphophone. Is she losing her mind, or does something wicked this way come?
"A wonderfully creepy little story."-- Kelly of
Reading the Paranormal
.
Sing a Mournful Melody is available at
Amazon
,
Barnes and Noble
,
Itunes
,
Kobo
, and
Smashwords
.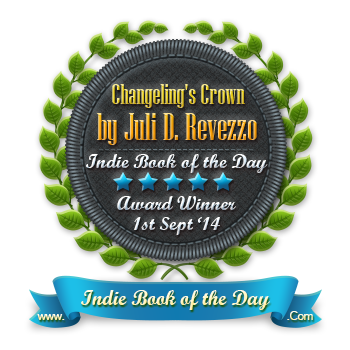 Changeling's Crown.
New Adult fantasy romance:
Blurb:
When Ianthe began her career as a faery godmother, she stumbled so badly that Snow White will probably never speak to her again. After a long suspension, she's finally been given a chance to redeem herself…but everything on this latest assignment is going wrong.
But why?
Worse, she definitely doesn't need an attractive mortal man distracting her from her duties. Of course, needs and wants are two different things.
Briak has had his eye on Ianthe for a very, very long time, but he's been waiting for just the right moment to make his move. Despite the fact all hell's about to break loose on his watch, he can't resist the opportunity to insert himself into her earthly assignment. Can he convince Ianthe of her true calling and thereby win her heart? Or will his subterfuge ultimately cost him her love?
Available from
Amazon
,
Barnes and Noble
,
Itunes
,
Kobo
,
Smashwords
, and
Createspace
.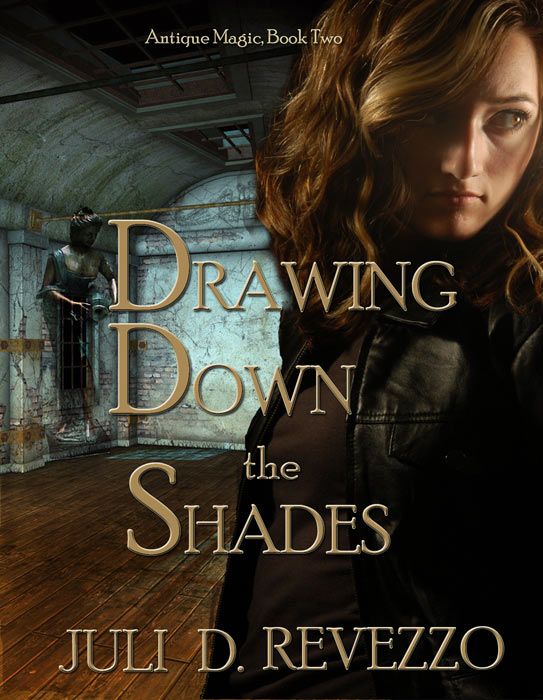 Drawing Down the Shades
(
Antique Magic
, book 2)
Available at
Amazon
, and in paperback from
Createspace
.
genre: supernatural fantasy
Business can be hell...
Life is good at Starfort Collectibles until the owners, Caitlin and Trevor Fulmer, acquire a beautiful statuette with a murky past. Shortly thereafter, mysterious hauntings wreak havoc on the couple when a ghost in the attic threatens retribution. Caitlin presses her coven for help before the ghost succeeds in meting out deadly punishment—on Trevor.
Caitlin's Book of Shadows
(
Antique Magic
, Book 2)
genre: Supernatural Fantasy
Synopsis:
Though their fame became legend, a rumor cropped up about the Fulmer family: Something terrifying stalked Caitlin and her beloved Trevor. Something the bits and pieces she left claimed she had to make sense of. When the curator of their collection finds Caitlin's long forgotten diary, she wonders will it tell the whole tale? Will it tell why Caitlin seemed so determined to tell the difference between reality and nightmare? Why she thought her world twisted?
Perhaps the answer lies between the lines of her story, one of lessons, struggles, and hopes for each new year.
**This is a side (or supplemental, if you will) story in the
Antique Magic
series, a companion to
Available for Free at
Amazon
,
Barnes and Noble
,
Itunes
, and
Smashwords
.
*~*~*~*~*
*~*~*~*~*
*~*~*~*~*
The Artist's Inheritance
(Antique Magic, Book One)
by Juli D. Revezzo
Genre: Supernatural fiction, paranormal fantasy.
The balance between good and evil can be an art... or a curse.
Trevor and Caitlin were once happy newlyweds, profiting from Trevor's art. Until Trevor inherits his brother's house, and with it, his part of an old Welsh family curse. Now, Caitlin will stop at nothing to save her beloved husband from insanity and suicide, even if it means she must embrace her destiny and become a witch.
Available at
Amazon
, and in paperback from
Createspace
.
House of Cards
by Juli D. Revezzo
Genre: Horror,
Supernatural fiction
, dark fantasy. $.99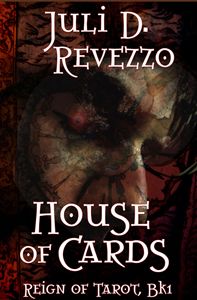 Available via Kindle Unlimited (users of which can borrow the story for free) at
Amazon
and
Amazon UK
.
Can you gamble with Fate?
A young nobleman escapes the Reign of Terror in 18th century France to find himself dragged into an even worse fate--a hellish underworld wherein he is cajoled and put on trial by a demon tribunal for crimes he never committed. Can he thwart his fate, one worse than the guillotine?
Genre: Horror,
Supernatural fiction
, dark fantasy. $.99