Introducing authors: #fantasy author Annie DouglassLima--#indie #interview
Today, I have the pleasure of hosting my friend and fellow fantasy author Annie Douglass Lima. Her most recent release is an alternative history YA novel, The Collar and the Cavvarach, and I invited her here to tell you all a little more about it.

How did you first come to write fantasy?

Annie Douglass Lima: I've been writing for as long as I can recall. When I was seven years old, I had a sudden inspiration for what I thought was an amazing science fiction story and decided then and there that I was going to write a book and be the world's youngest author. I ran to my room in great excitement, found an old notebook and a pencil, and started in. Well, that first novel was never actually finished, let alone published, but it got me started. After that, I can't remember a time that I wasn't working on at least one book. Prince of Alasia, which I started in college, was the first one I finished that I thought was worth trying to get published, and then two more (In the Enemy's Service and Prince of Malorn) joined the series.

It's hard to see myself writing anything other than speculative fiction (fantasy, sci-fi, etc.). Nonfiction and realistic fiction just don't give my imagination enough room to play! I like to be able to make the rules. Having said that, The Collar and the Cavvarach, my latest novel, isn't really fantasy, at least not in the typical sense. It's more of an alternate reality. If you were to step into that world, you would probably assume you were still in our own world – except for a few key details, like the prevalence of slavery.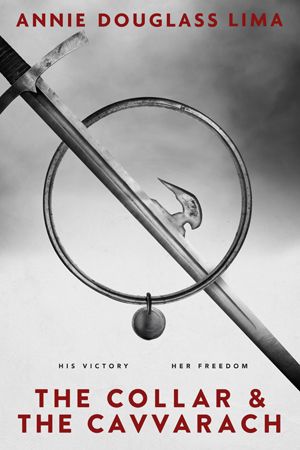 The story somehow puts me in mind of Gladiator. What inspired you to write The Collar and the Cavvarach?

Annie: I've had the idea growing in my mind for the last few years. It started as just a picture of the setting and its culture: a world almost exactly like ours, but with legalized slavery. The main characters, Bensin (a 14-year-old slave and martial artist) and Steene (his owner and coach) emerged gradually, along with the plot (Bensin's struggle to protect and free his younger sister).

And for readers that might not understand, what is the Cavvarach?

Annie: A cavvarach is a sword-like weapon (pictured on the book cover) that is used in the martial art of cavvara shil. I wanted to create a challenging martial art for Bensin to compete in that was a combination of two or three different fighting styles, involving elements of unarmed combat as well as the use of a weapon. It took a few false starts before I had a fighting style I liked. At first I just pictured using a traditional sword, but I wanted something a little less stereotypical. The cavvarach, with a steel hook on the top edge of the blade, ended up being just right for what I had in mind. Combatants try to snag their opponent's hook to tug the weapon out of the other person's hand, which is one way to win a duel. (They can also knock it away with their own cavvarach, or kick it away.) Besides disarming an opponent, you can win by knocking them over and pinning their shoulders to the mat for five seconds.

By what authors would you say you are influenced?

Annie: C.S. Lewis provided my very first literary inspiration. More recently, I've enjoyed the works of inspirational fantasy author Anne Elisabeth Stengl. Her Tales of Goldstone Wood series is amazingly crafted. I love the way the time periods in some of the books overlap, focusing on different characters and sometimes different views of the same events. That storytelling style influenced my fantasy series, the Annals of Alasia, though not The Collar and the Cavvarach as much.



Lewis is a goodie. I've never heard of Stengl. I'll have to put her on my to be read list!

Any interesting stories to share about your road to publication?

Annie: As a teacher as well as an author, I've got a captive audience in my classroom. I read all my books to my students before (and after) I publish them, and their feedback is tremendously helpful in improving my writing. When the kids start yawning and playing with things in their desk as I read, I know I need to liven up that scene. When they stare with wide eyes and don't even notice the recess bell, I know I've done something right. And their questions and comments help me see what parts don't make sense or go over their heads. So, I change what I need to and try to do more of what they respond well to. I also have a club for middle schoolers that meets in my home after school once a week. I read my books to them as well (but not the same ones those students heard when they were in 5th grade). That way, after I've made changes after reading a book to my class, I can see how the new version works with my club, or vice versa. That has helped me SO much in my writing and publishing!



*lol* A captive audience. How fun! *fill in evil laugh here*

Now that The Collar and the Cavvarach is out, what can curious fans expect from you next?

Annie: I'm working on two more novels at the moment. King of Malorn will be the next one in the Annals of Alasia, and I'm hoping to have that published sometime this spring. The other one is The Gladiator and the Guard, which takes place four years after the events of The Collar and the Cavvarach. I drafted it last November (another NaNoWriMo project), but it still needs a lot of work. I hope to have it ready for publication by the end of this school year, but we'll see.

(That always seems to happen with NanoWriMo projects). We will be looking forward to your new books! :)

If you weren't a writer, what career might you have pursued instead?

Annie: I'm actually a fulltime teacher. While I love my day job, unfortunately it doesn't leave me with nearly as much time for writing as I'd like. I mostly write on the weekends and on summer vacation, plus sometimes in the evenings if I don't feel too brain-dead after a long day of teaching.

Do you have any advice for aspiring fantasy authors?

Annie: My advice is for any kind of writer. Don't try to write a scene perfectly the first time or get frustrated if it doesn't turn out the way you hoped. Just get your ideas on paper in whatever rough form you need to; never mind selecting just the right words or fixing any mistakes. Leave the scene alone for a few days, and when you come back to it, read through it and smooth out the obvious errors. Read through it again later and work on polishing it up a little more, and then a little more the next time, and so on. If possible, read it aloud to someone; that will help you hear errors or issues you may not notice otherwise. I've found that it usually takes lots of passes before I'm satisfied with something I've written. Trying to make it perfect the first time is stressful and next to impossible, at least for me.

Is there anything else you'd like to share with our readers?

Annie: If you like science fiction and fantasy, you might enjoy my "Realm Explorers" blog series. In this weekly series, different sci-fi and fantasy authors answer questions about the worlds their stories are set in. Examples of these questions include:

If we visit as tourists, what would you recommend we see or do?

What dangers should we avoid?

Is there a distinct or unusual type of food or meal that we might be served?

What types of sentient races might we encounter?

What types of weaponry or fighting styles are common there?

You can read recent Realm Explorers posts here. Feel free to subscribe to my blog to be alerted to the latest ones every Monday. It's a fun way to find out much more about sci-fi and fantasy worlds than anyone could just by reading the book's description on Amazon!



I second that.I always enjoy your Realm Explorers interviews, Annie!

Where can my readers find out more about you—and The Collar and the Cavvarach?

Annie: Anyone is welcome to visit my blog and social media pages (links below). In addition, I wrote a Realm Explorers post that describes the world that The Collar and the Cavvarach is set in, with interesting details about the culture (including food, weapons, transportation, entertainment, etc.). Click here to read that.



Blurb:

Bensin, a teenage slave and martial artist, is desperate to see his little sister freed. But only victory in the Krillonian Empire's most prestigious tournament will allow him to secretly arrange for Ellie's escape. Dangerous people are closing in on her, however, and Bensin is running out of time. With his one hope fading quickly away, how can Bensin save Ellie from a life of slavery and abuse?



The book itself is available through the following retailers:

Link to ebook on Amazon: http://smarturl.it/cavvarach

Link to ebook on Smashwords: https://www.smashwords.com/books/view/539122

Link to ebook on Kobo: https://store.kobobooks.com/en-US/ebook/the-collar-and-the-cavvarach-1

Link to ebook (Nook) on Barnes & Noble: http://www.barnesandnoble.com/w/the-collar-and-the-cavvarach-annie-douglass-lima/1121847057?ean=2940151898997

Link to ebook on Google Play: https://play.google.com/store/books/details/Annie_Douglass_Lima_The_Collar_and_the_Cavvarach?id=tMfvCAAAQBAJ

Link to ebook on Apple iBooks: https://itunes.apple.com/us/book/the-collar-and-the-cavvarach/id990745970?mt=11

Link to ebook on Google Books: https://books.google.com/books?isbn=1311045120

Link to ebook on Lulu: http://www.lulu.com/shop/annie-douglass-lima/the-collar-and-the-cavvarach/ebook/product-22157178.html

For More on Annie and her books see her social media links below:


Blog: http://anniedouglasslima.blogspot.com

Email: AnnieDouglassLima@gmail.com

Facebook: https://www.facebook.com/AnnieDouglassLimaAuthor

Twitter: https://twitter.com/princeofalasia

Goodreads: http://bit.ly/ADLimaOnGoodreads

Google+: http://bit.ly/ADLimaOnGooglePlus

Amazon Author Page: http://bit.ly/AnnieDouglassLimaOnAmazon

Smashwords: https://www.smashwords.com/profile/view/AnnieDouglassLima

LinkedIn: http://bit.ly/ADLimaOnLinkedIn

About Annie: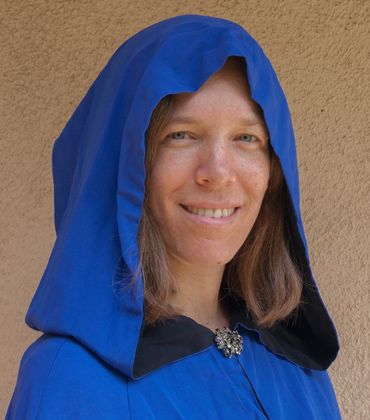 Annie Douglass Lima spent most of her childhood in Kenya and later graduated from Biola University in Southern California. She and her husband Floyd currently live in Taiwan, where she teaches fifth grade at Morrison Academy. She has been writing poetry, short stories, and novels since her childhood, and to date has published six books (three YA action adventure/fantasy and three anthologies of her students' poetry). Besides writing, her hobbies include reading (especially fantasy and science fiction), scrapbooking, and international travel.

Thank you for being with us, Annie! I wish you all the best with, and look forward to reading, all your fine works. :)



ABOUT THE AUTHOR
Welcome to the blog of author Juli D. Revezzo