Hi folks. I hope you're having a good day. I am so far. Just wanted to pop in here and let you know I'm having a little giveaway. My
historically-set dark fantasy
short story
House of Cards
(Reign of Tarot #1) is Free on
all Amazon venues
today. If you're in trouble, (and can't call the Ghostbusters!) can you
really
bargain with fate and win? That's what Sinjon (the hero of this story) is about to find out. Does he? You'll have to read to find out!!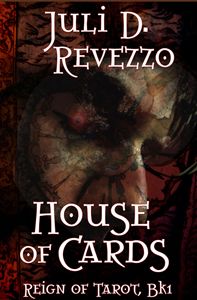 AN HISTORICAL PARANORMAL, TAROT-INSPIRED SHORT STORY
Can you gamble with Fate?
A young nobleman and
tarot
reader flees the Reign of Terror in 18th century France to find himself dragged into a hellish underworld wherein he is put on trial by a
demon
tribunal for crimes he never committed. Can he escape his fate, one worse than the guillotine?
Meanwhile, I'm still editing the follow up to
House of Cards
. (yes, there will be a follow-up). The second installment will be along...when it's along. Until then, you can pick it up today for
free
,
here
. I hope you enjoy Sinjon's story.