I'm a little late, again, but I have a few things I picked up last week.
Christmas Ball by Susan Macatee
(purchased from The Wild Rose Press)

Clash of Wills by S.G. Rogers
(purchased from The Wild Rose Press)

and
Castle of Dark Shadows by Patty G. Henderson.


And this week I finally got Some Girls Bite by
Chloe Neill
from the local library.
Also, this weekend I got The Wild Rose Press's A Healthy Holiday Garden Gourmet. It's a freebie cookbook they put out once a year featuring recipes by some of their authors. This one has recipes by
Vonnie Davis
,
Beth Trissel
,
Darah Lace
,
Nancy J. Cohen
,
Tory Richards
and many more. If you'd like it, you can pick up a copy
here
.
I hope you all might take a look at them and enjoy them too. What'd y'all get?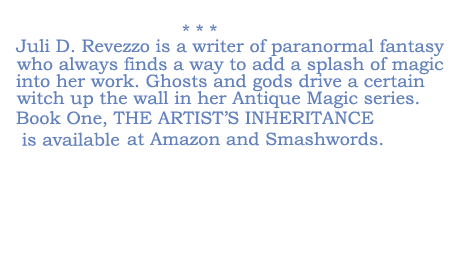 ABOUT THE AUTHOR
Welcome to the blog of author Juli D. Revezzo